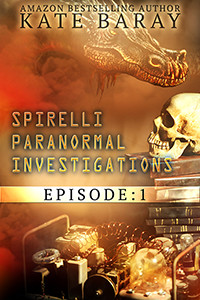 Episode 1: Currently free on most retailers.
Amazon / B&N / Kobo / i-Bookstore /
Page Foundry / Oyster / Scribd
GR epub  / GR mobi (kindle) / GR pdf
NOVELETTE. Jack Spirelli, paranormal investigator, public debunker of paranormal frauds, and private fixer for the magic-using community has opened his doors.
Jack's in a crunch. Since he went pseudo-public with Spirelli Paranormal Investigations, his business has sky-rocketed. Debunking the scum who prey on vulnerable targets makes up half his business now. And the rest of his time? Jack's on speed dial with the Texas Lycan Pack, the Inter-Pack Policing Cooperative gives him an occasional ring, and anything that goes bump in the night might just call him with a job.
He needs an assistant, another investigator, and some additional muscle, but maybe the dragon who just walked in and applied will do for now.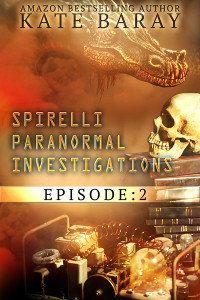 Episode 2: 
Amazon  / B&N / Kobo / i-Bookstore /
Page Foundry / Oyster / Scribd
GR epub / GR mobi / GR pdf
NOVELETTE. Conrad Blevins speaks with the dead. Or does he? Is Conrad a psychic for hire or a fraud preying on the recently bereaved?
Jack Spirelli and his dragon side-kick Marin hunt for the truth, even as the pursuit endangers their lives.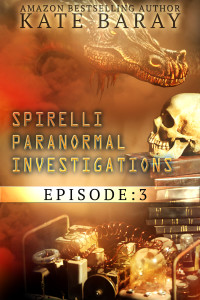 Episode 3:
Amazon / B&N / Kobo / i-Bookstore /
Page Foundry / Oyster / Scribd
NOVELETTE. Jack Spirelli describes the Coven of Light as a cult-like organization, with dangerously powerful members, and no love for mundane humanity. He was also on record as categorically refusing to involve himself in a case that took him anywhere near the Coven. Why then had Jack agreed to take the case of a defecting Coven member?
His dragon side-kick Marin may not speak to him again–ever. Sometimes the right thing to do wasn't convenient, comfortable, or safe. But it's also possible the stash of magical potions the fleeing witch had used as partial influenced Jack's decision to take the case.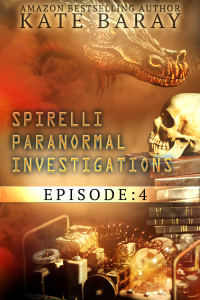 Episode 4: Available for Pre-Order Now. Releases 11/20/2015
Amazon / B&N / Kobo / i-Bookstore /
NOVELETTE. Jack knew the critter living in his shop, affectionately referred to as Fuzzface, wasn't a rat. But what exactly was he? It wasn't surprising Jack was in the dark, since the creature had never let himself be seen. Small, clean, and with a preference for canned crab, Fuzzface had become an invisible but comforting presence in the shop.
Imagine Jack's surprise when he learns Fuzzface isn't an unobtrusive shop pet, but his newest client.
*Gumroad (GR) is the author's direct ebook distributor and requires side-loading, rather than direct load, to e-readers. Want to purchase content for your Kindle, but aren't sure how your device can read non-Amazon mobi files? Check out these helpful download tips.