Entombed Available Now!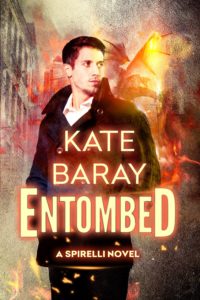 A human investigator in a magical world – what could possibly go wrong?
Jack and his dragon side-kick Marin are neck-deep in trouble again, but this time there's an international angle. Belize has been attracting members of the magic community to its shores for months. Even though Jack's curiosity has been piqued, he's not traveling internationally without a lucrative case to lure him. Enter one anonymous client with a large bank account.
With magical trouble brewing in Belize and a hefty bonus on the line, Jack can't say no. But are the monsters in this case too big and bad for Jack and Marin to handle?
Entombed is a stand alone story that continues the fast-paced Spirelli Paranormal Investigations urban fantasy series.
Buy Entombed for an action-filled, magical ride!
Spirelli Paranormal Investigations: Episodes 1-6
Jack Spirelli, paranormal investigator, public debunker of paranormal frauds, and private fixer for the magic-using community has opened his doors.
Jack's in a crunch. Since he went pseudo-public with Spirelli Paranormal Investigations, his business has sky-rocketed. Debunking the scum who prey on vulnerable targets makes up half his business now. And the rest of his time? Jack's on speed dial with the Texas Lycan Pack, the Inter-Pack Policing Cooperative gives him an occasional ring, and anything that goes bump in the night might just call him with a job.
He needs an assistant, another investigator, and some additional muscle, but maybe the dragon who just walked in and applied will do for now.
Each episode covers a new SPI case in approximately 65-90 print pages.