A mysterious book opens the door to a world of magic!
John Braxton arrives unannounced on Lizzie Smith's doorstep looking for answers she doesn't have. She may have a magical book, but she hasn't a clue what to do with it–or even how to read it. And John's revelation that he's a Lycan isn't making the job any easier.
Before the code to the book can be cracked, Lizzie and John stumble into the middle of a power-hungry mastermind's plan. Caught up in one man's search for power, Lizzie soon begins to uncover surprising secrets about her past and powers. Can she and John put a stop to their new found enemy's plans?
Take a romp through the life of the quirky and well-meaning Lizzie as she discovers magic, creatures that go bump in the night, and maybe love.
Spooky events persist inside the newly discovered library of spelled books. What magical mischief is afoot?
Lizzie receives an offer she can't refuse—an internship at the Lost Library, home to hundreds of magical books. And to make the deal even sweeter, her prospective boss has offered to act as her magic mentor. What's a girl to say, but yes? Except…there are the questions of her unresolved love affair, her recently acquired arch enemy, and a haunting past.
Click to find out how Lizzie makes the most of what life—and the afterlife—throw at her.
Pack challenges and plots abound in the third Lizzie & John Lost Library story!
After an exhausting trip to Europe, Lizzie and John come home wanting nothing more than peace and quiet. Instead, Lizzie finds a death threat on her pillow, and John must fight a challenger to his position as Texas Pack Alpha-and in his backyard. What will the neighbors think?
Soon Lizzie and John find themselves fighting for their lives. But who is masterminding the attacks? Is it Lizzie's old arch-rival Worth? Or an even greater threat?
And where is Lizzie and John's relationship headed now?
A romp with Max Thorton becomes more, but Kenna McIntyre's standing by her tried and true method of dating–she's moving on. Having successfully dodged Max's calls and crushed any remaining sparks, Kenna learns that one of their encounters has produced startling results–a pregnancy she didn't believe possible and activation of her fire witch powers.
Can she reconcile her past relationship failures with a future that includes Max–if only as the father of her child? And what about her knitting, crafting, home-body mom who turns out to be a bad-ass fire witch fighting for the good of humans everywhere? Can Kenna be a devoted mom, a crime-fighting daughter, and a newly awakened witch without losing her sanity?
With the help of friends Lizzie and Jack, her shockingly capable mom, and a feisty little magical book that refuses to be silenced, Kenna might just have a shot.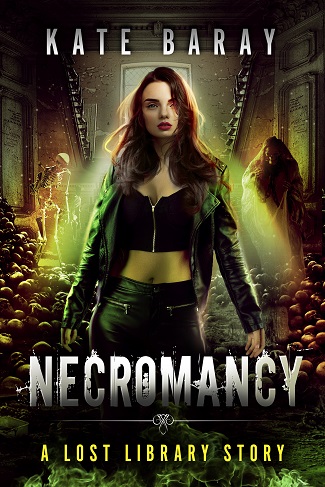 Tentative publication first quarter 2018. Don't want to miss Necromancy? Sign up for my newsletter to receive release announcements!
Can a book think? Act alone? Animate the dead?
Dead bugs fly and a ghost becomes corporeal, demonstrating that the possibility exists. But how is it happening, and how can it be stopped? Those are the questions the Inter-Pack Policing Cooperative, Europe's other world policing agency, are racing to answer.
Harrington, rising IPPC star and Lizzie's boss, leverages her cooperation–even though she's supposed to be on leave from her part-time IPPC gig and celebrating her recent engagement.
Lizzie loves a challenge, but is there enough caffeine and magical cooperation to kill an undead uprising?
This book can be read as a stand alone work.