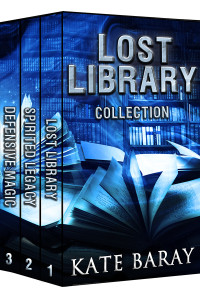 Amazon / B&N / Kobo / i-Books
Inktera / Oyster
GR epub  / GR mobi (kindle) / GR pdf
Three books of action, adventure, magic, and romance! This set includes the first 3 books of the Lost Library series: Lost Library, Spirited Legacy, and Defensive Magic.
Meet Lizzie and John in these fantasy-filled novels, and then stay with them as they conquer evil villains, help their friends, and learn to love.