Wait, it's only 2015! But you can still sneak a peek into the year 2017 with my new short story, "The Covered Mirror." Mirror, Mirror: A Collection of Halloween Shorts is now available at major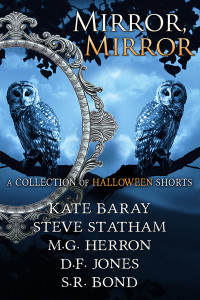 retailers and contains "The Covered Mirror" as well as four other fantasy shorts.
What's the 2017 connection? "The Covered Mirror" is the first story in a new series: Cursed Curios. Whenever time allows, I'll add to the series with a short story or novelette, but the first full-length mystery novel isn't planned until 2017.
So check out the first Cursed Curios story in Mirror, Mirror for a glimpse into the not-so-distant future! If you're a Lost Library fan, you'll be glad to hear there's even a brief glimpse of Kenna and Gwen. =)