I have a new project! The little girl in me is twirling around saying, "Weeeeeeee!" But the grown up me decided that writing a blog post might be another (safer) way to celebrate. 😀
First things first: COVER REVEAL! Check it out. Love it. Go all fan girl (or fan guy). Done? 'Kay, thanks = ) On to more readerly excitement…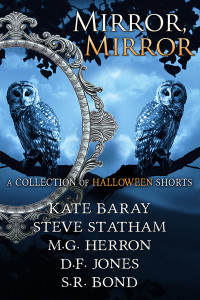 My writing buddies Steve Statham, Matt (M.G.) Herron, Dawn (D.F.) Jones, Sarah (S.R.) Bond, and I decided we'd team up for some Halloween fun, and Mirror, Mirror was born. Five stories, five mirrors, and a solid dash of fantasy combine to make this collection a Halloween treat.
Can't wait till the late September 2015 release of Mirror, Mirror? No worries. Click on the links above to check out my accomplices' works. Steve has shorts, novels, sci-fi, and fantasy; truly something for everyone! Dawn's paranormal romance will make you blush, but only in the best possible way 😉 Matt's serial shorts, Tales From the Republic, will reel you in and have you eagerly waiting for more. Sarah has a few projects in the works, both fantasy and sci-fi. Swing by her site for a sneak peek.
I'm super excited about this project, and I can't wait to share these terrific stories with all of you! Keep an eye out for updates and teasers. And, as always, happy reading!